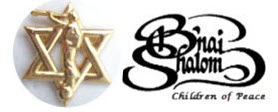 Bnai Shalom - Jews and Latter-day Saints
in Utah since 1967
Members of The Church of Jesus Christ with Jewish Lineage & interested friends
We are officially organized as Bnai Shalom, Children of Peace, .org as a 501(c)(3) non-profit organization. We started with a kitchen discussion in 1967 in Utah and have grown to over 1200 members world wide. We are members of the Church of Jesus Christ of Latter-Day Saints who have Jewish heritage or who are interested in the cultural and spiritual connections between the Jewish and The Church of Jesus Christ o Latter-day Saints faiths.